Happy Monday, everyone! I'm stepping away from my usual Motivation Monday post because today is the third blogiversary of Running with the Sunrise!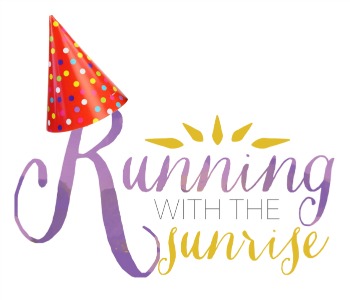 (Yes, I really did put a party hat on my logo.)
FREE Hip Openers for Runners Guide
Sweet relief for your tight, sore hips!
Get the best hip-opening yoga poses sent straight to your inbox.
I published my first post on July 6, 2012. RWTS started off primarily as an online running journal. Most of my early posts were reviews of gear that I tried, or posts about my daily runs. The content wasn't great, but I quickly made awesome blogging friends, and I realized how much I loved the running blogger community.
As my I made changes in my life, I made changes to the blog, too. The biggest change happened when I became a certified yoga teacher and I started posting more about yoga. Becoming a certified running coach brought about changes in what I wrote about, too. I decided to get a little more serious about RWTS, so I bought my domain and moved from Blogger to a self-hosted WordPress site.
Over the past year, I've been focusing a lot on writing more helpful content, moving away from treating the blog as a running journal and instead trying to provide service to people wanting to live a healthy lifestyle. My desire to help others live healthier lives is now the primary reason why I maintain this blog, and it's something that I'll continue to focus on in the future.
That brings me to the one thing that my blog centers around: you, my readers. I seriously love you guys and sincerely appreciate that you take the time out of your busy day to come read my posts. Really, thank you.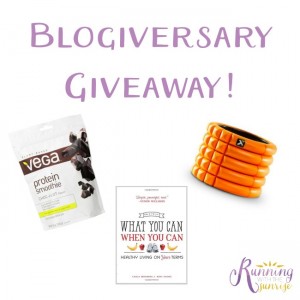 To thank you a little further, I'm sponsoring my own little giveaway. I'm like Oprah today—I'm giving away three of my favorite things! (Sorry, none of those things is a car. Maybe when I make money like Oprah does. ;)) Enter using the widget below! And don't forget about my Tiux compression sock giveaway, which ends Monday night (7/6) at 11:59 PM CDT!
How was your weekend?
Bloggers: When's your blogiversary? How old is your blog?