Last weekend I ran my first 5K in almost four years. Yes, the last time I ran a 5K was a turkey trot in November of 2011. I spent years focusing on longer distances, primarily the half marathon and marathon. I learned some things about myself while I was training for those races, including the fact that I really hate doing long runs during the summer. My body just doesn't tolerate running in the heat very well. So, this summer I decided to take it easy. I didn't hate running like I have at the start of September in some past years, so I consider that a victory.
Anyway, on to the race recap!
I signed up for the Parkie's 5Kwww.bolingbrookparks.org on a whim. It's a small 5K in Bolingbrook, IL, close to where I live. The registration is inexpensive and parking was incredibly convenient. What's not to love about that? I opted to pick up my packet the morning of the race, and I didn't even have to wait in line to get it. Easy peasy.
FREE Hip Openers for Runners Guide
Sweet relief for your tight, sore hips!
Get the best hip-opening yoga poses sent straight to your inbox.
Because I hadn't been doing a ton of training—mostly easy runs—I didn't have super high expectations of my performance at this race. My 5K PR (from the last 5K I ran in November of 2011) is 25:46, but since I don't have a lot of speed in my legs anymore I was hoping to finish around 30 minutes, but was willing to listen to my body and run slower if I needed to.
The weather wasn't awful, but wasn't really great either. It had been raining off and on all night, so it was incredibly humid. The temperature was around 65ºF. Again, not terrible, but not perfect either. I lucked out and just got caught in a few sprinkles, but no major precipitation as I was running.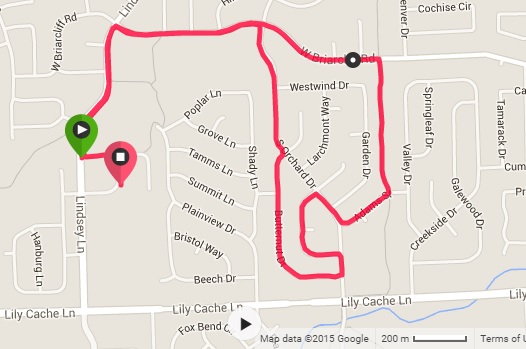 The course mostly went through neighborhoods, although there was a short piece on a paved trail. The terrain was easy to run–a few tiny hills, but nothing too hard to run up.
I was pretty happy with how I raced. I focused on running at what felt like a good effort level, something I felt like I could sustain for three miles. I'm obviously not used to running shorter races, so I knew I'd probably make a couple pacing errors. I did go out a little too fast, and my third mile was definitely the slowest.

I was really happy with how I ran, coming in well under my goal of 30 minutes. My official chip time was 29:19, good enough for fifth in my age group and 38th out of 429 overall. (Gotta love small races.) Yes, my time isn't that fast compared to a lot of runners out there, including many of you reading this, but I'm very pleased with what I was able to do.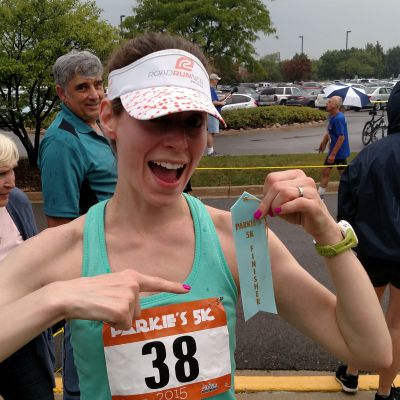 Oh, and I got this sweet finisher ribbon. Awe. Some. It started to pour right as Scott was taking this photo, so I had some really great timing.
I would definitely run this race again! I'm hoping to find a few more small 5Ks like this one to run this fall. Looking forward to running as the leaves turn colors!
What's the last race you ran?
Do you prefer smaller or larger races?
What's your favorite distance to run/race?