Today is the last day of the FitFluential Spring Clean challenge, which means I'm very close to have been eating clean for a whole month! As someone who previously lived on processed carbs and sweets, this was a tough one for me at first. But, now that I'm almost done, I'm feeling really great and I think I'm going to largely keep eating clean, while allowing for occasional indulgences, like a night at the ball park.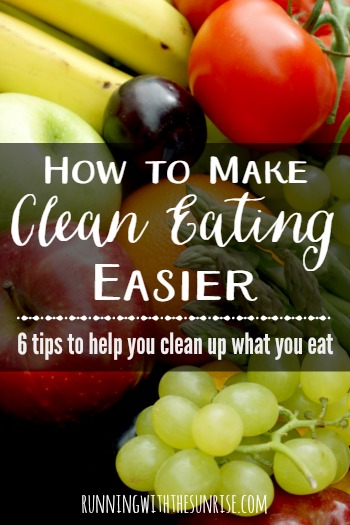 FREE Hip Openers for Runners Guide
Sweet relief for your tight, sore hips!
Get the best hip-opening yoga poses sent straight to your inbox.
I did learn a lot about what I needed to do to make clean eating easier, and I wanted to share what I learned with you guys just in case you're struggling with eating clean like I did when I first started the challenge.
1. Plan ahead and prep your meals! I'd say this is the biggest thing you can do. I did more meal prep this month than I had in months past, and it made it much easier when I came home from work exhausted just to heat up some quinoa, sweet potatoes, and lean protein than to cook something from scratch.
2. Go grocery shopping. I stopped by the grocery store a LOT to make sure I had clean, healthy foods. Unfortunately clean foods tend to spoil more quickly than processed foods (shocker), so you may have to make more trips to the store to pick up more fruits and veggies. It's worth it, though!
3. Try not to have junk in your house. This one's tough if you're married or live with someone who's not following along on the clean eating journey, but it really helps to not have tempting foods sitting in the pantry calling your name. (I'm looking at you, giant box of Goldfish from Costco…)
4. Have a support system. Luckily my husband was very supportive of my challenge and did a great job of checking with me to see what I could eat before planning meals that we were both eating. (Full confession: we didn't always eat the same thing.) I also have a good friend from work who eats paleo, and it helped to be able to commiserate with him about how I was really craving a doughnut or pizza. Feel free to contact me through social media if you need a clean eating buddy—I'd be happy to help!
5. Have healthy snacks ready. Between working busy jobs (plural now) and working out most days of the week, I definitely get hungry between meals. Having healthy snack options ready was huge for me. I'm surprised I haven't turned into an almond since I ate so many almonds! I don't need to lose weight so I ate extra nuts during the challenge to help me get in some extra calories since most healthy foods are relatively low calorie.
6. Have a plan for eating healthy if you have to eat out. There were times when I was just too short on time after work to cook, so I had a couple of options in my pocket if I needed to eat out. I did a lot of Chipotle, and I ate a couple of BUFF Bowls from Noodles and Company, which are essentially spinach and some cooked veggies mixed with your protein of choice. And the Whole Foods salad bar was my best friend during the challenge. I love you, salad bar.
Do you have any clean eating tips?
Have you ever done a clean eating challenge?
What would be the toughest thing for you to give up?
I have been craving Lou Malnati's pizza for a month now!