If you read my post from last week, you know I'm trying to put together a "racing" schedule (I use that term loosely since I'm primarily racing against myself). However, if you live in a larger metro area like I do (Chicago love!), you might have an overwhelming number of options to choose from. Or, you might not even know how to find races in your area. Here are the steps that I take when I'm looking to find a race to run—I hope you find them helpful, too!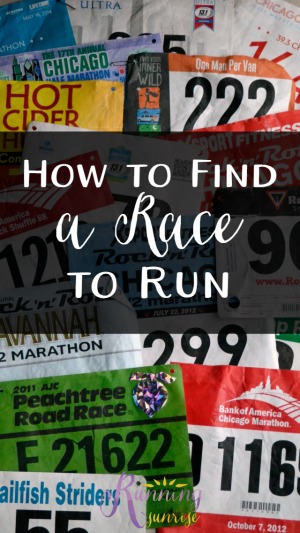 FREE Hip Openers for Runners Guide
Sweet relief for your tight, sore hips!
Get the best hip-opening yoga poses sent straight to your inbox.
1. Choose your distance.
First and foremost, choose the distance that you'd like to run. Longer distances require more time to train for because you'll need to build up the length of your long run to prepare for the race. If your mileage has been low, you'll also need more time to prepare. Most training plans for shorter distances like the 5K start at 12 weeks, especially if you haven't been running. Training plans for longer distances like the marathon are often 18 to 20 weeks in duration. (Look forward to reading more about how to choose a training plan in a couple of weeks! Or, learn how to write your own training plan!) Be sure you choose a race that's far enough in the future that you'll have enough time to adequately train!
2. Choose when you want to train.
Finding the right time to train is particularly important when you're training for longer distances. For example, through trial and error, I've found that I really don't like training for marathons through the heat of the summer. I don't tolerate heat well, and because I'm not a fast runner it's generally pretty hot when I'm finishing runs longer than 14 or 15 miles in the summer, even when I start right at dawn. So, you won't see me signing up for any marathons in early fall any time soon.
Maybe you can't stand the treadmill and you live somewhere where you get three feet of snow every winter. Or, maybe you're planning a wedding in June, so you won't want to do long runs for an August half marathon. Knowing your restrictions can help you choose a time that's best for you to train, which will help you stick with your training plan so you're prepared for your race.
3. Check out race calendars.
Once you have a range of dates that will work for you, start checking race calendars to find a race that fits your requirements. Marathon Guide and Half Marathon Guide have listings of just about every marathon and half marathon in the US and Canada, respectively, and they have great international listings, too. For other distances, check out the Runner's World Race Finder. Some cities have magazines or websites that have a listing of all of the races in the area. For example, Chicago Athlete Magazine has a great listing of many of the races in the Chicagoland area. Some running clubs will also maintain lists of races.
These resources will help you find a race that's within the date range you'd like for your race, and will help you find one in the right geographic region, too. (Not all of us want to travel five hours to run a 5K.) Once you've found a race that meets your needs, the only thing left is to register!
Runners: how do you find a race to run?
Are there any great resources for listing races in your area?
Let me know in the comments and I'll update the post!
When's your next race?