Happy Friday! How's your March going so far? It's supposed to warm up a bit in the Chicago area this weekend, which I think we're all looking forward to. I don't mind winter, but it will be nice when it warms up a bit and I'm able to run outside without having to worry about slipping on ice.
And it's time to share the my favorite things of the week and link up with Clare, Katie, and Heather.
Five Favorites of the Week: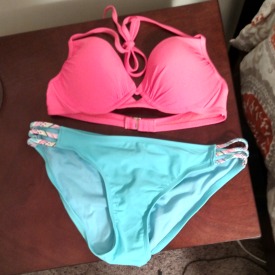 FREE Hip Openers for Runners Guide
Sweet relief for your tight, sore hips!
Get the best hip-opening yoga poses sent straight to your inbox.
1. This new bikini I picked up at Target. They've got a sale on swimwear right now and I haven't bought a swimsuit in years. Figured it was time to get an updated suit. I was loving the colors they had. The lighting they had in the dressing rooms was all fluorescent. No one should have to try on swimwear under those conditions. It's like some special kind of torture.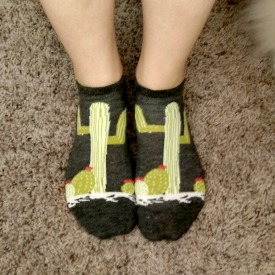 2. And I couldn't resist picking up these socks at Target, too. Who doesn't need a pair of cactus socks?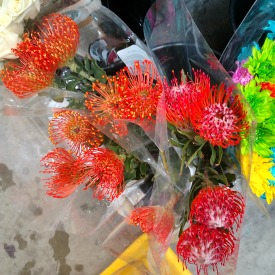 3. Seeing proteas at Costco. I had them in my bridal bouquet–they were a special flower that was only in my bouquet, not in the bridesmaids'. They always give me happy thoughts.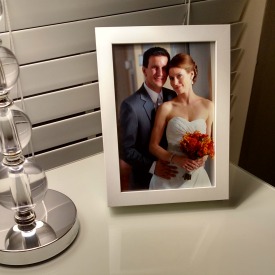 4. This photo I found while sorting through some papers. I had an extra picture frame so it's sitting on my desk now. Love getting to look at it every day.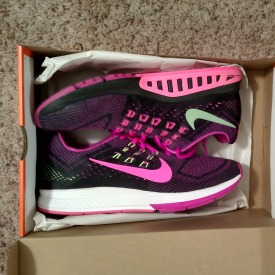 5. New shoes! The perks of working at a running store. These are a little too much support for me to run in, but I'll definitely wear them for kicking around. Love this raspberry color!
Posts and Articles I'm Loving:
14 Tips to Stay Sane, Organized + Inspired as a Blogger by Danielle guest blogging at Cotter Crunch – Seriously loved all of the great tips in this post. If you're trying to grow your blog but are feeling overwhelmed by it all, definitely check out this post!
How to Decolonize Your Yoga Practice via Huffington Post – This is a must-read for all of you yogis. It's a great look into what yoga is and what it should be, instead of just focusing on asana. It's something I've been thinking about a lot lately, so I found this post at a really good time!
Sitting Down With Joan Benoit Samuelson by E @ Running on E – Sooo jealous that E got to meet Joan Benoit Samuelson! I can only imagine how cool that must have been. Couldn't have happened to a better person, either. She raised a ton of money for cancer research!
And I just got on Vine! Follow me there so I can follow you, too! Just starting to get the hang of video editing on my phone. So glad I have my fancy, speedy new phone! I think my old phone would have crashed trying to edit video and add music to video.
What's your favorite shoe color?
What do you have planned for the weekend?