Greetings from Denver! I'm in Colorado for Pure Barre teacher training, which I'm both excited and nervous about. I decided to fly in early on Friday to try to get acclimated to the elevation and to see some friends and family that live in the area. I've been running around like crazy this week, so I'm taking a moment to catch up on blogging things before I run out.
Here's what I'm loving this week:
Getting to see old friends. I'm going to get to go to dinner with one of my grad school BFFs, Emily, tonight! I'm so excited to see her and to catch up! I haven't seen her since my wedding a year and a half ago, so I'm sure we'll have lots to talk about.
FREE Hip Openers for Runners Guide
Sweet relief for your tight, sore hips!
Get the best hip-opening yoga poses sent straight to your inbox.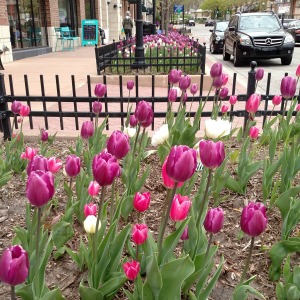 Tulips. The tulips are really popping in Chicagoland and I'm loving them. Tulips are one of my favorite flowers and seeing them come up every spring makes me so happy.
Free Internet. I'm so happy my hotel has free Internet. I've stayed at hotels for conferences that make you pay and it really stinks. Good Internet is a must when you're a blogger and you're traveling.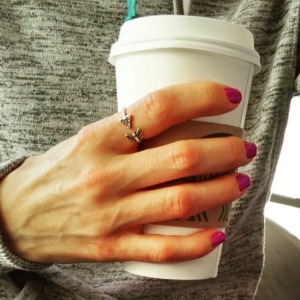 Arrow ring from Rocksbox. The folks at Rocksbox sent me a free trial of their boxes and I am absolutely loving this House of Harlow arrow ring that they sent along. And it's only $30 to keep! I'm so happy they sent me something that I absolutely love. If you want to try Rocksbox, you can get your first month free if you use code runningwiththesunrisexoxo
Cheat day. Yesterday was the last day of my clean eating challenge, so I'm excited for my cheat day! I haven't done anything too crazy yet, had a piece of pumpkin bread for breakfast and then went healthy for lunch with a kale and shaved Brussels sprout salad, but I have plans to indulge during dinner with Emily. But not too much, because I have a ton of working out to do tomorrow at teacher training!
Linking up with Clare and Heather to share my Friday Favorites!
Where was the last place you traveled to?
How often do you get to meet up with old friends?
What are you up to this weekend?