I had the pleasure of running the RUN10FEED10 10K last weekend in Chicago. (Full disclosure: I was provided with a free entry to the race.) RUN10FEED10 is a really neat charity series–ten meals are donated for every race entry. I love a race for a great cause, so I was totally in.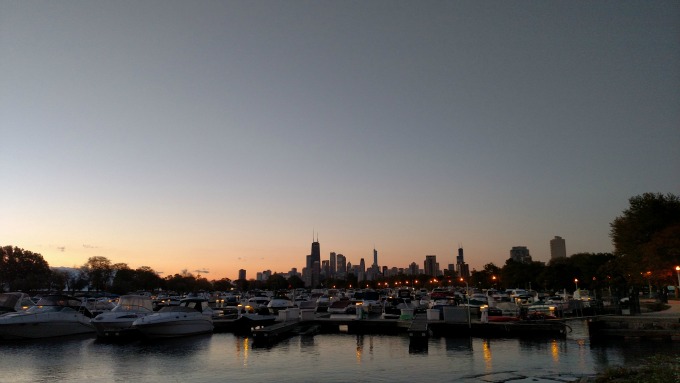 The weather on race day was almost perfect. It was a little chilly that morning (first freeze warning of the season), but I like running in cold weather, so I didn't mind. The race starts and ends at Diversey Harbor, which is just beautiful. Who wouldn't want to run in a place like this?
FREE Hip Openers for Runners Guide
Sweet relief for your tight, sore hips!
Get the best hip-opening yoga poses sent straight to your inbox.
I got access to the VIP tent, where they had coffee and some breakfast foods. Sometimes being a blogger has its perks. I had a little yogurt and granola…didn't want to eat anything too crazy before a race.
This was a smaller race, which was nice because I didn't have to deal with any start corral drama. They had volunteers with signs for pace ranges, so I lined up by the side before the 10+ minute mile group, expecting that I'd be running around a 10:15-10:30 pace. After a beautiful rendition of the National Anthem, we were off!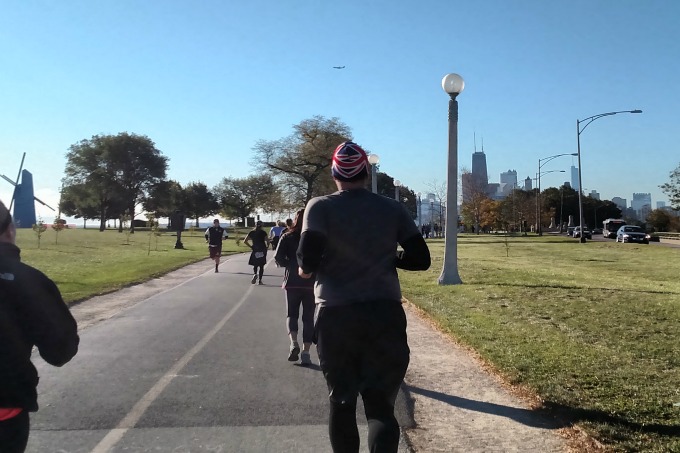 I'd say the one negative thing about the race was the narrower paths at the beginning of the race. Because people were lining up by pace using the honor system, I got stuck behind a pack of slower runners without any room to move around them. I was planning on just running the race for fun at an easy pace, so I wasn't too worried, but I think I would have been frustrated if I was going for a PR. If you run this race in the future, consider lining up a little ahead of the pace signs that you're aiming for.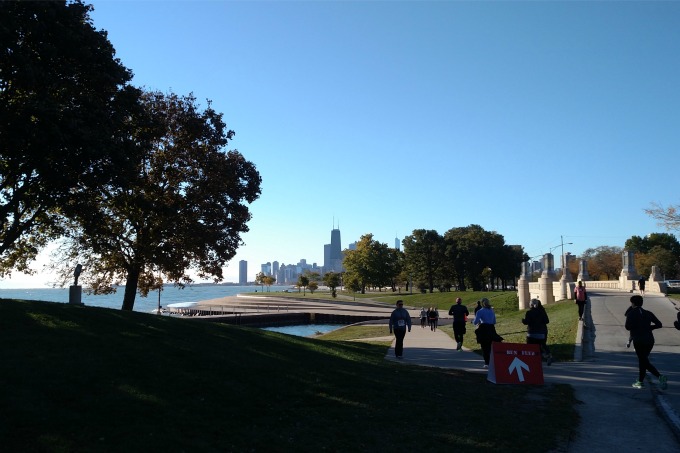 I did really like the way that the course was set up. You run south for a little bit, then loop up back north, finally turning back south for for the last bit of the race. I loved running the last few miles back toward the city; it gave me something beautiful to look at towards the end of the race.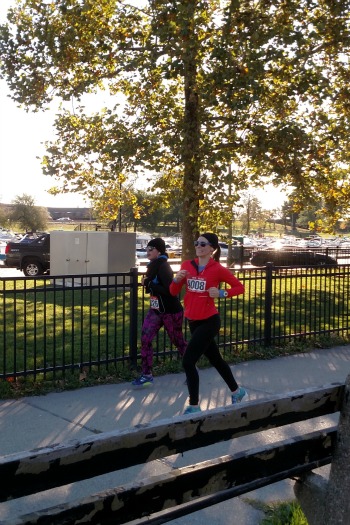 The last mile did a funny little loop around the start/finish area that I wasn't really expecting. (Pro tip: study the course map a little more carefully than I did before running a race for the first time.) I decided to give a little push at the end and wound up kicking too early. Oops. Live and learn.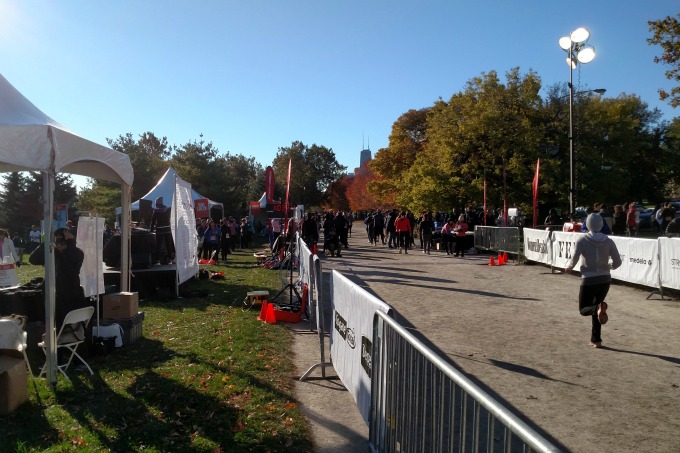 I finished in 1:03:10, or at around a 10:10 pace. I did exactly what I had set out to do: enjoyed myself during the race, ran at a comfortable pace for the vast majority of the race, and had a great time. The weather was great, the scenery was amazing (perfect time of year—all the trees were turning!), and the race was well-organized. Overall, I'd love to run this race again, especially as a race to run for fun without worrying too much about being able to run at a certain pace. Here's hoping I can run it next year!
What's the last race you ran?
What's your favorite season for running?