If you read my Weekly Workouts post last Sunday, you know that I'm throwing around the idea of signing up for the Soldier Field 10 Mile race in May. The race is about 12 weeks away, so I wanted to throw together a basic training plan to use as a baseline for the minimum amount of training I think I'll need. Then I thought, heck, I'm a certified running coach, I should throw my 10 mile race training plan up on the blog so I can share it with everyone!
FREE Hip Openers for Runners Guide
Get the best hip-opening yoga poses sent straight to your inbox.
I designed this training plan as a basic training plan for anyone wanting to train for a 10 mile race, primarily aimed at beginners. The assumption here is that you've worked up to running, walking, or run/walking a 5K and will be able to work through a 3.5 mile long run the first week. If you're not there yet, just take a few weeks to build up your base and work up to that 5K distance.
The plan includes speedwork on Thursdays but you could change that speedwork for an easy run. Any speedwork workout that's appropriate for beginners or intermediate runners would do, but I'm suggesting an easy workout: 2 minute intervals. After a good warmup, you run hard for two minutes, at about 70 to 80% effort, then you jog for two minutes. Repeat several times, leaving about five minutes for a jogging cool down.
If you wanted to, you could even add on a few weeks and use this as a half marathon training plan, or follow this exactly if you think you could push through the last 5K of a half marathon without having run more than 10 miles during training. The adrenaline will really carry you through on race day, so feel free to give it a try!
Let me know if you have any questions about the plan, or check out my coaching page if you're interested in having me write a custom plan for you.
Thinking about training for your first half marathon? Check out my free eBook, "13 Tips For Running Your First Half Marathon"!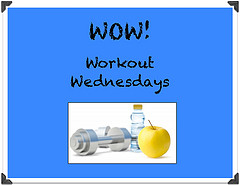 Linking up with Annmarie, Angelena Marie, Upala, and Amber for Wild Workout Wednesday and Diatta, Sheila, Amanda, and Heather for Workout Wednesdays.
Have you ever run a 10 mile race?
What's the weirdest race distance you've ever run?
Have you ever tried to write your own training plan?