I've been talking to people a lot about yoga lately, particularly people who usually don't practice yoga, and who aren't around it a lot, which has opened my eyes to a some common misconceptions people have about yoga. I'm not saying that everyone has to love yoga, but I think if more people understood what yoga is really about, they'd be more open to trying it. If you've ever been too intimidated to start a yoga practice because you think you can't do the poses correctly or you think yoga isn't for you, I hope this article will help convince you to give yoga a try with an open mind.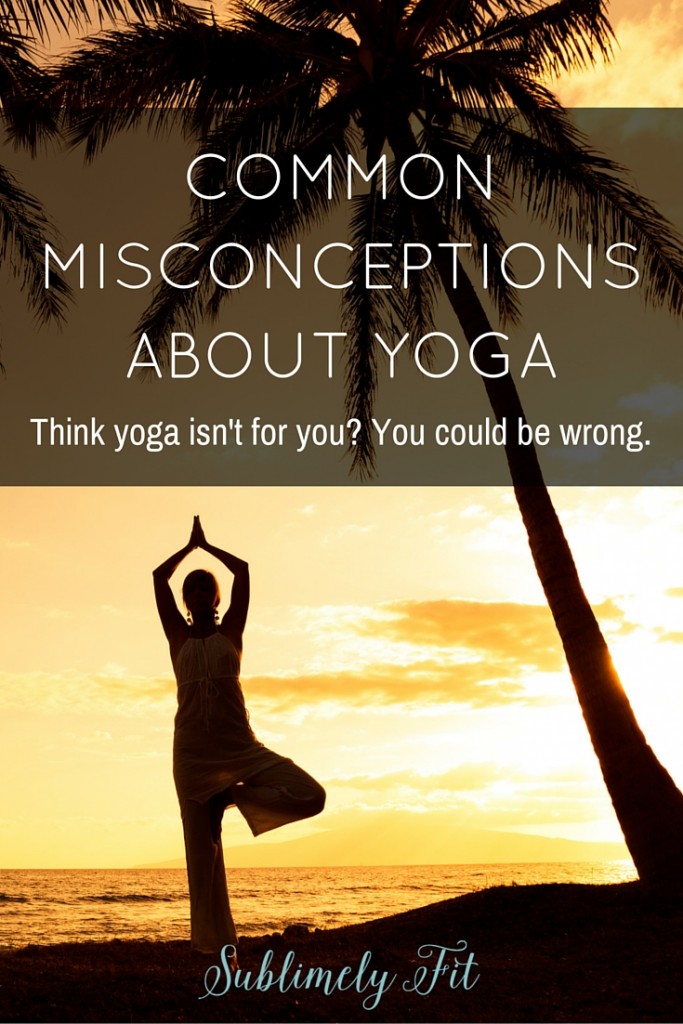 Common Misconception #1: Yoga is all about poses
So often yoga is represented as just a collection of poses, particularly on visual forms of social media like Instagram. What these photos can't capture is the feeling you get from practicing yoga, particularly when you're able to make yoga about more than just the pose. Traditional yoga is made up of eight limbs, and yoga poses (asana) are just one of those limbs. Yes, that means that 7/8 of yoga is not about the yoga poses. Some styles of yoga like Iyengar focus more on alignment and the positioning of the body, but there are styles of teaching that spend less time emphasizing the exact placement of the body and instead encourage you to simply be present and feel the pose. It's about finding a style of yoga and a teacher or studio that speaks to what you're looking for.
Common Misconception #2: You have to be flexible
It's easy to look at photos of yogis in crazy yoga poses and assume that yoga is just for flexible people. A good yoga teacher will help you discover how to translate each yoga pose so that it fits your body. Every person's body is put together differently—we're all tight in different places, have different ranges of motion in our joints, and sometimes even have injuries on one side of the body but not the other. This means that my yoga pose will not look like your yoga pose, and that's a beautiful thing. Don't be afraid to use props like yoga blocks, straps, and blankets to help you find the version of the pose that feels best in your body.
Common Misconception #3: Yoga is a religion
Yes, yoga does stem from religious practices thousands of years ago. But most Western yoga studios don't teach a version of yoga that you would consider a religion. For many yogis (simply people who practice yoga), yoga is simply about connecting with your breath and your body and letting go of thoughts. In fact, when I did my yoga teacher training, one of the yoga instructors who helped lead the training was an ordained Christian minister, who saw her yoga practice as a way to clear her mind of her thoughts so she could better listen to God. Again, it's all about finding what speaks to you and your truth.
Common Misconception #4: Yoga will immediately relieve your stress
I've come to realize that there's an expectation that if you take a few yoga classes, you'll start to feel more relaxed almost immediately. That may be true for a few people, but it's tough for most of us. We're so "on" all the time in our modern world, constantly thinking about this or that, distracted by our smartphones and all of the technology that surrounds us. It's not surprising that spending time moving through yoga poses may not be enough to help you turn off your thoughts. Just like learning yoga poses, learning to turn off your mind takes practice. If you're an overthinker like me, you have to actively work to drop your thoughts and be present. But, in my experience yoga is set up very well to make dropping your thoughts and clearing your mind easier, definitely easier than a seated meditation. Don't worry, just like riding a bicycle, it does get easier with time and eventually it becomes second nature, when you practice consistently. (If you'd like a little help learning to do this, be sure to sign up for my free Overcoming Stress Mini-Course!)
What are some misconceptions you've had about yoga,
or that you know people have?