It's hard to believe that in less than 24 hours, it will be 2016. Over the past few weeks I've been reflecting a lot over the past year so I can learn from my mistakes and set focused goals for the new year, including reflecting about my blog. This year was a big one for me, blogging-wise: I changed my blog's name to Sublimely Fit to reflect the fact that I now blog about a lot more than running, and I even attended my first blogging conference. In this spirit, I also wanted to look through which of my posts did really well and were helpful to readers. These were my top posts written in 2015. If you missed any of them, here's your chance to catch up!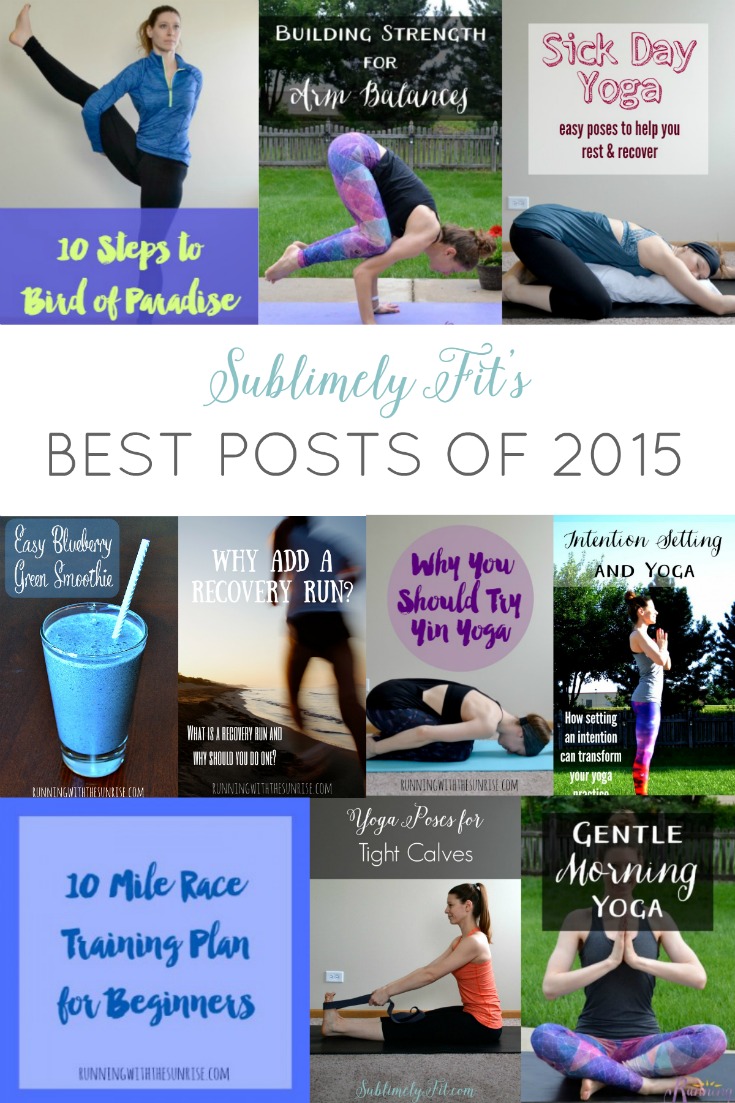 Let's go through the top posts countdown-style in honor of the countdown to 2016 we'll all be doing in a few hours!
#10: Intention Setting and Yoga
You may have taken a yoga class and heard the teacher talk about "setting an intention," but what the heck do we mean by setting an intention, and why is it helpful? This post explains the basics of intention setting and how that helps you both in your yoga practice and beyond.
#9: Why You Should Try Yin Yoga
Yin Yoga, and its twin sister Recovery Yoga, are wonderful forms of yoga to practice, especially if you also practice vigorous forms of yoga like Power Yoga, or include other strenuous training in your fitness routine, like running. It's important to balance stress with recovery, which is why Yin Yoga is a great style of yoga to try. Learn more about it in this post!
When I got really serious about training, particularly for marathons, I started adding recovery runs into my training plan, and they were so incredibly helpful. The concept of a recovery run can be a little confusing, which is why I wrote this blog post to explain it.
Practicing some gentle yoga poses is a great way to wake your body up in the morning. I teach a 6 am yoga class every week and there are some poses that I come back to every week because they're so great for helping to gently wake the body. Check out this post to find out what those poses are!
#6: Easy Blueberry Green Smoothie Recipe
If you follow me on Instagram, you know how obsessed I am with green smoothies (and how excited I was about my awesome Christmas present – a Ninja blender!). I guess this recipe resonated with a lot of folks, and it really is incredibly easy. I make this smoothie at least once a week.
#5: Ten Steps to Bird of Paradise Pose
Bird of Paradise is a tough yoga pose to get into and work up to, but it's such an accomplishment when you finally get there. In this post, I broke down the steps to take to work up to Bird of Paradise, giving you options for intermediate poses to work on as you build to the full pose.
#4: Building Strength for Arm Balances
With all of the amazing arm balances you see yogis in on Instagram, it's no wonder that one of the first things my students and clients want to learn to do after getting down yoga basics is arm balances. You really need good upper body and core strength to get into arm balances, and this post walks through some great yoga poses to help build that strength so you're ready for Crow Pose or any other arm balance you're working on.
#3: 10 Mile Race Training Plan for Runners
The Soldier Field 10 Miler is a very popular race in the Chicago area, but I know there aren't a lot of training plans for that specific distance. So, to help out my fellow Chicagoans, I decided to write one. Here's hoping it helps folks training for the SF10 in 2016, too!
#2: Yoga for Calf Muscles – Calf Stretches
I'd had a request from several runners for a post like this, and I can completely commiserate as a runner whose calves are perpetually tight. This was by far the most popular Yoga for Runners post I wrote in 2015.
#1: Sick Day Yoga
I came up with the idea for this post after being sick for a few days, and clearly it resonated with a LOT of people. This post features gentle yoga poses to help loosen achy muscles, with options to use a pillow for support.
…..
I have to end this post by thanking all of you, my readers, for a tremendous 2015. Thanks for your support as I struggled and as I grew stronger. I look forward to growing along with you in 2016. If you have any suggestions for future blog posts or questions you'd like to have answered, feel free to email me. I'd love to help. 🙂
Have a wonderful New Year's Eve and New Year!
What's the biggest thing that you accomplished in 2015?
What topics did you read a lot about in 2015?