I love giving gifts during the holidays. Unfortunately, I love giving gifts so much that I often wind up spending more than I intended to, which gets me in trouble. This year I'm setting a budget for each person on my list, which means I have to be budget-conscious with my shopping. For those of you who are in the same boat and have a runner or two on your shopping list, I'm sharing what I think are the best gifts for runners under $25.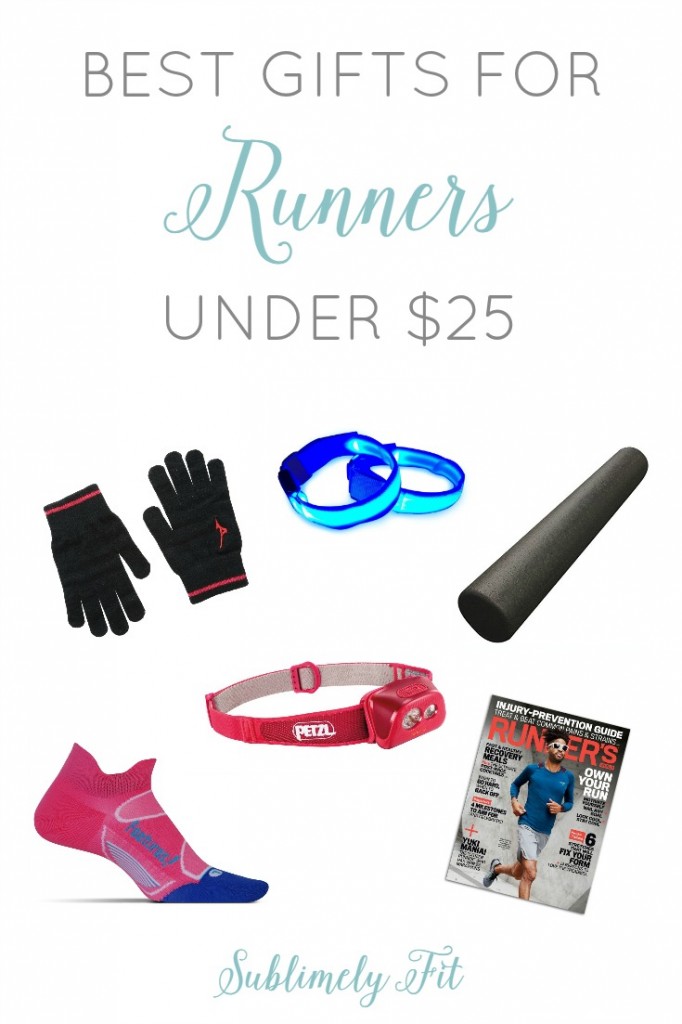 GOOD running socks. Having the right running sock is so important. Less expensive socks often don't have the same features and aren't as comfortable. I've bought cheap socks before, and they were quickly replaced by higher quality socks. Sometimes you really do get what you pay for. Consider buying a couple pairs of good moisture-wicking running socks for your runner. Some of my favorites: Feetures Elite socks. Their feet will thank you.
FREE Hip Openers for Runners Guide
Sweet relief for your tight, sore hips!
Get the best hip-opening yoga poses sent straight to your inbox.
Gloves or mittens. If your runner lives in a cold area, consider getting them a nice set of running gloves or mittens. Some have really nice technical features that will help them keep their hands extra toasty warm. I personally think Mizuno's Thermo Breath Run Gloves are really neat: they're made with a material that heats as it gets wet. So, once they're a little moist, they'll really keep your runner's hands nice and toasty warm.
Safety gear. It's not the most romantic gift, but if your runner likes to run outside before dawn or after dusk, consider giving safety gear as a gift. Many drivers are easily distracted, so it's smart to make yourself as visible as possible with a headlamp (I personally use a Petzl headlamp that I really like), reflective vest, or even a light up arm band. Another great gift would be wearable identification like the products made by Road ID. In case of emergency, the authorities will know who to contact, and you can choose to provide information like allergies to medications, too.
A foam roller. Every runner really should have a foam roller. Self myofascial release can help combat soreness during training, especially when training for longer distance races. It helps to release tight muscles and can help work out muscle adhesions that form as muscles repair themselves.
A subscription to a running magazine. If they don't already subscribe to Runner's World, Running Times, or Women's Running, consider getting them a subscription as a gift. You could always design and print a certificate that you could place in a box if you'd like them to have something to unwrap. If they happen to already have a subscription, they should be able to extend their existing subscription with your gift if they contact customer service at the magazine.
This post contains affiliate links. You'll pay the same amount, but I'll receive a small amount to help me cover the costs of hosting my blog. Thanks for your support!
Runners: is there anything you would add to this list?